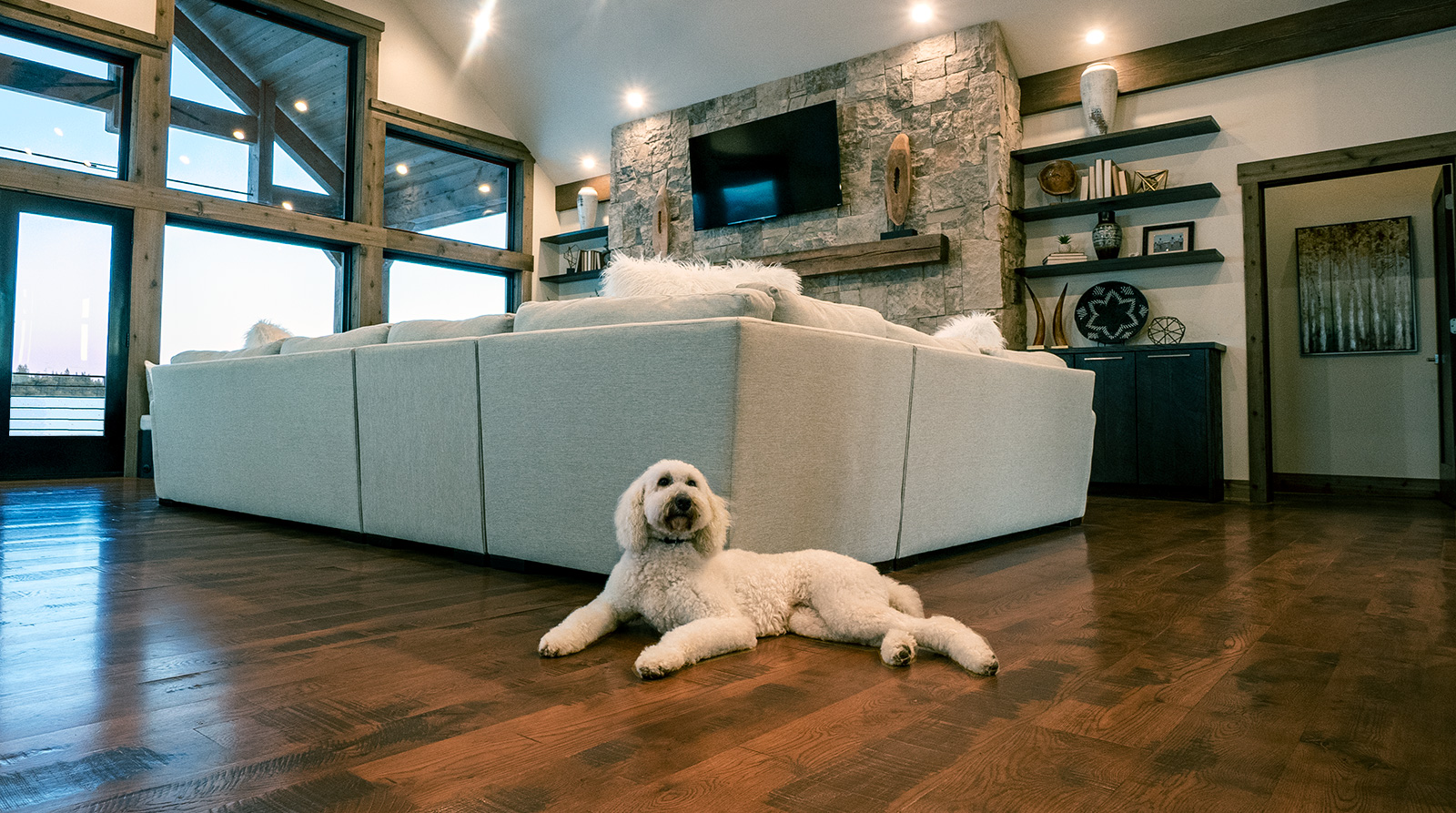 Making hardwood floors Pet Friendly.
Can I have a hardwood floor with indoor pets?
At Birch Creek Millwork we love our pets and we love our hardwood floors, and don't think you should be forced to choose between them.
You may have heard that traditional hardwood floors and pets don't mix. And yes, there are some concerns you should be aware of. Smooth, hard surfaces with high-gloss finishes can be challenging and uncomfortable for your pet—their foot pads and nails have difficulty gripping, making it easy to slip and scratch the floor. However, there are ways to get around this.
What is Pet Friendly Hardwood Flooring?
We've spent great time and effort developing textured hardwood floors that make the lives of both you and your pets much easier.
The key is in the texture. The biggest problem for both your pets and the maintenance of your floor is the lack of traction. Adding a custom texture makes it much easier for your pet to grip the floor, preventing scrambling and scratching. When light scratches do occur, a texture helps them blend in—they can even enhance your floor's dramatic character.
Hardness helps. Harder floors are more difficult to scratch and damage than softer floors.
Our Design My Floor tool can take you step-by-step through the process of designing a custom hardwood floor that meets both you and your pet's needs. In the tool, look for:
Textures with high Pet Friendliness ratings.
Species with high Hardness ratings.
Design my pet-friendly floor.
Other tips:
Wood Grain: Woods with a more prominent grain pattern, such as white oak or ash, can help disguise minor dents and scratches.
Color: Neutral brown and other dark colors help to hide dirt and minor scratches left by pets.
Finish: A matte or low gloss finish will help your floor look new and clean much longer. We do not recommend high-gloss finishes for pet owners.